Enjoy fitness others will envy — with workouts you can do anytime, anywhere!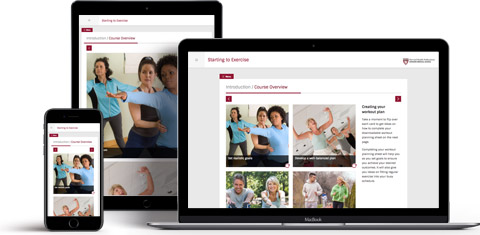 You can access Starting To Exercise on your smart phone, tablet, or desktop computer. With easy log-in and simple-to-navigate screens, this online course is designed for adults of all ages.
In the online course, STARTING TO EXERCISE, today's leading fitness instructors show you workouts that work…the exercises that will help you enjoy a healthier, more vigorous, and longer life!
It's a fact: regular, vigorous exercise can add more than three years to your life! Exercise lessens your risk of heart disease and stroke. It lowers blood pressure, reduces risk of certain cancers, strengthens bones, protects joints, and keeps your mind sharp.
This first-of-its-kind course from Harvard Health Publishing brings you exercises that reward your time and effort. You'll master the smartest choices in aerobics and strength training. You'll learn routines for maintaining balance and increasing flexibility. This comprehensive program is designed to give you results you'll see — and feel.
MORE THAN 40 EXERCISES ARE ILLUSTRATED AND DEMONSTRATED!

Our instructors are at your command! Starting to Exercise makes it easy to search for a specific exercise, swipe to go back or move to the next routine; you can pause a video, or go big-screen on your iPad and share with a workout partner.

Starting To Exercise is packed with workouts to fit your schedule…and exercises you'll not only stick with…but look forward to! It includes…

Cardio workouts — a dozen exercises — from curls to kicks and more for boosting heart fitness

Strength-training — the right moves to build muscles and keep your bones strong

The balance workout — exercises to help you avoid a disabling fall and stay steady on your feet

Flexibility stretches — exercises to keep you limber for daily activities or your favorite sport

Plus 7 Bonus Videos!
Including instructive tips and techniques from top fitness experts!
Invest in yourself! Exercise is the best investment you can make in your health. Make sure you get the greatest return on that investment! Order Starting to Exercise now at the special rate reserved for

HEALTHbeat

readers. For a limited time only, you can save $10.00 from the regular price.

Harvard Medical School offers special reports on over 60 health topics.
Visit our website at http://www.health.harvard.edu to find reports of interest to you and your family.

PHONE ORDERS – please call our toll-free number: 1-877-649–9457.
---
Copyright © 2019 by Harvard University.
Harvard Health Publishing, 4 Blackfan Circle, 4th Floor, Boston, MA 02115, USA

* Please note, we do not provide responses to personal medical concerns, nor can we supply related medical information other than what is available in our print products or website. For specific, personalized medical advice we encourage you to contact your physician.