If you are unable to view the images in this email click here.
Prevention Is Now Better Than Ever for You!

Click Here!

Walk Off Your Belly

in Just 4 Weeks!

Dear

Friend

,

Lucky you! You've been selected to receive these 3 FREE powerful weight loss tools to help firm and flatten your belly in as little as 4 weeks. They are yours FREE when you subscribe to Prevention.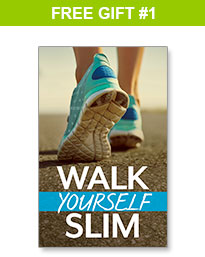 Free Gift #1 Walk Yourself Slim This powerful, 96-page book shows you the secrets to POWER UP.
WALK YOURSELF SLIM
This powerful, 96-page book shows you the secrets to POWER UP your walking and see weight loss in as little as 4 weeks.
No matter what your goals — to blast fat off your belly, butt, or thighs, to strengthen your heart, to fit into your skinny jeans, to walk faster, or to give yourself an overall shape-up — you'll get step-by-step walking plans that will help you achieve results.
Plus, you'll get fat-fighting recipes and meal plans to supercharge your efforts. And you'll get a 4-week walking log to help you keep track of your workouts and celebrate your success!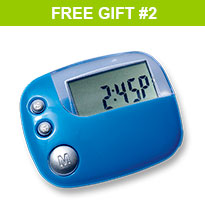 Free Gift #2 Pedometer You'll love your FREE pedometer! It will keep you motivated.
PEDOMETER
You'll love your FREE pedometer! And you'll love how it keeps you motivated to stick to your walking goals. Before long, you may discover that you've lost weight, lowered your cholesterol, reduced your overall risk of heart disease, taken inches off your hips and thighs, and boosted your energy levels!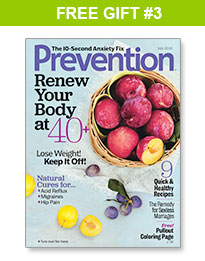 Subscribe to Prevention You can trust that our tools will help you make the best choices.
FREE TRIAL ISSUE OF PREVENTION
At Prevention, we are dedicated to making our magazine the first place our readers turn to for creating a healthier, happier life. Today, Prevention is even MORE passionate about bringing you more news, natural health, nutrition, and food information.
Try Prevention for 45 days and cancel if you decide not to continue.

Simply click the button and review your information on the next page before placing your order — it's that easy!
Sincerely,



Olivia Taylor
For Prevention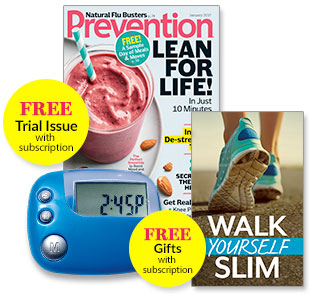 Get 2 Free Gifts — Walk Yourself Slim and Pedometer — with your subscription to Prevention.

Prevention is a publication of Hearst Magazines Division
© 2019 Hearst Communications Inc. All Rights Reserved
300 W. 57th Street • New York, NY 10019

Manage Your Email Preferences

|

Unsubscribe

|

Policy Notice

15133