Hey Refactual
 
So yesterday I told you about how I "invented" football trading (if you missed that email then search your inbox, it took me a while to write😀) and today I want to tell you about my search for the PERFECT football trading strategy. (Maybe something you are doing right now?)
 
The road to finding the right strategy can be a long (and sometimes lonely) one but the destination is 100% worth it!


Either way I don't want you to make the same mistakes I made and I hope this email will serve as one HUGE lesson for you as you begin your own quest!
So after making my discovery and buying some of the cheap PDF systems that were available at the time I began to dabble in Lay The Draw and some other basic football trading methods.
But despite all the promises, for some reason I was not profiting even in the medium term, let alone the long term.
I paid good money to go to some of the live seminars available at that time. But they mainly covered horse racing in those days and my attempts at that were embarrassing to say the least.
So after spending almost 5 figures on all this (including the many banks I blew🙄 ) and feeling like I was nowhere I began to lose faith a bit. But I could see those juicy screenshots on blogs showing HUGE profits and I knew it was still possible somehow. It is an exchange after all, with all that money in there SOMEONE must be making good enough money to keep coming back and trading day after day.
THE DEDICATION PHASE
So I went down to a WHSMITH (rarely see those around these days?) and bought a bunch of notebooks, ball point pens and highlighters. I bought about 20 notebooks and dedicated one strategy idea to each book and then simply began testing anything and EVERYTHING.
I tested strategies on all the markets. Match odds, Correct Score, Over/Under 1.5,2.5,3.5 etc. I recorded everything and often read over my results in bed, often waking up in the morning with my notebooks still in my hands.
Good thing I was single at the time because I doubt I was much fun to be around at this point in my life.  At some points, I genuinely felt like a crazy professor with all the experiements I was doing. People would come to my flat and see post it notes and strategy books lying around the place. They probably thought I was crazy. (Maybe I was?)
But here is the funny part….
A few of the strategies I came up with showed immediate solid profits.
And I began to focus on trading with those strategies.
But (and this is shameful) after even a single losing day I would scrap them and begin the process once again.
Yes, I literally found profitable strategies and gave up on them. Little did I know I was throwing money away this way.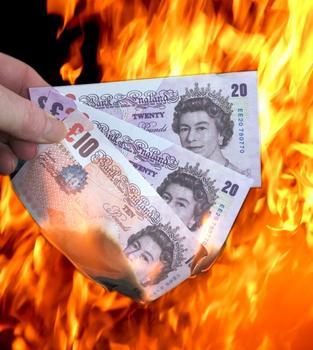 Like many newbies I was scared of losing and as soon as I began to lose money I figured the strategy just had a lucky run and now reality was catching up with me.
But the worst part of all is that…
I realised I wasn't looking for a good strategy after all. I was trying to find the HOLY GRAIL.
I was sucked in by those (probably fake) screenshots that show a trader winning every single trade.
You know the ones I am sure.
And this was my problem, if a strategy wasn't somehow giving me a 100% strike-rate then it was not good enough. And coming from a matched betting background probably didn't help my frame of mind at this point either.
So after a long time of hopping from system to system, strategy to strategy, false dawn after false dawn you know what I did?
I threw away all my notebooks and pretty much gave up. Again, pretty much burning money again, there was some serious GOLD in those notebooks I tell you.
And I think most of us probably get to the point of giving up but in reality I was actually just taking a break from the scene.
One that allowed me to think things over and to come back with a new refreshed approach.
I think my break literally only lasted 2-3 months but it was during this time that I had my epiphany.
I realised (thankfully) to give up on looking for the holy grail and to be happy with any method that can be profitable in the long term.
I thought back to some of the strategies I was testing and some of them were long forgotten but I began to realise that it wasn't really all about finding the "perfect" strategy but just finding a strategy and working hard on improving the strike rate of it.
Previously, I spent a lot of time following pre-match stats to pick my trades and then I would follow the methods blindly. By filtering and picking certain teams with certain stats I could improve the strike rate but it was hard to make it comfortably profitable.
I would often end up breaking even this way.
But what if I could improve my strike-rate into profitability simply by watching the match with my own eyes? 👀 Could I just watch the action and get involved the markets if I liked something I saw? Was it that simple?
So from there the next chapter began as I salvaged one of my previous methods (from the books I destroyed) and began trading football again in earnest.
And tomorrow I am going to tell you what my FIRST ever profitable strategy was!
The best part is that it still works today too. You could literally start using this yourself on football matches this weekend if you wanted. (And it is not Lay The Draw either)
In the meantime I have another great Football Trading video for you and this might not be the "perfect" football trading strategy but it is a simple method that I believe anyone can do well with.
This strategy is called the DOMINATION method, check out the video and give it a go >> https://www.youtube.com/watch?v=H7SVsXAo_6I&t=152s
Speak soon Refactual
Ben
SportsTradingLife.com
P.S
I still regret throwing those books out today because there was some pretty juicy data in there that could still be useful now. Who knows what profitable systems were in there?
P.P.S
Hope you didn't miss that video link, you will really enjoy seeing this football trading strategy >> https://www.youtube.com/watch?v=H7SVsXAo_6I&t=152s

To make sure you keep getting these emails, please add ben@sportstradinglife.com to your address book or whitelist us.

No longer interested and want out of the loop? This link will remove you and you won't get anymore emails from us. Unsubscribe.

Our postal address: Linen Hall, 162-168 Regent Street, w1b 5td, London, England