Hey Refactual
 
Hope you had a profitable weekend!
 
I am going to explain a bit more about my trade during the unforgettable Liverpool-Barca match last week but quick heads up, I am actually writing this on Sunday morning and scheduling it for Monday.
 
Didn't want to bother you too much on your Sunday but also means I don't know how the final day of the Premier League panned out as I write this.
 
Looks like it should be simple for Man City but then again I thought the same back in 2012 and we all know how that turned out. If there was anything of interest I will email about that tomorrow!
 
But anyway many have been asking about my thinking behind my trade in the Liverpool-Barcelona match last week.



 
Around £800 profit produced from £60 of risk and not the sort of trade (or match) you will see every day.
 
And just to be clear, all this action took place in the "To Qualify" market. An often overlooked market but can be pretty great for trading!
 
So my initial plans for this trade actually came the week before when Liverpool lost 0-3 in the Nou Camp.
 
I thought Liverpool were the better team that night and the 3-0 flattered Barcelona. I thought Liverpool might be at least able to give Barcelona a "scare" in the second leg which might allow for some price movement.
 
And that is the most important thing to think about, is the potential price movement.
 
I am not going into this trade believing that Liverpool would actually qualify but did I believe the prices would trade higher in-play? Yes there was good reason to believe that.
 
Only problem was when I first looked, Barcelona was 1.12 to lay which didn't look good to me considering it was a 3 goal lead.
 
But over the week the price shortened and the injuries to Salah and Firmino helped that.
 
Some might say that Liverpool's chances diminished whilst missing those two but, like I said, I just wanted to believe that Liverpool could give them a scare in the least and cause the prices to move.
 
So by close to kick off the price to lay Barcelona the qualification market was 1.06 and it looked like it was worth a go at that price.
 
Everyone had written the tie off and thought Barcelona would cruise through. It reminded me much of the lead up to the PSG-Man Utd match in March. (Opportunity missed for me there).
 
And one of my thoughts in football is that there is usually a "twist" of some sort, after all this is what creates the entertainment.
 
So I thought the "twist" might be Liverpool getting an early goal or possibly a 2 goal lead which might make the match more of a challenge and would cause the price to rise.
 
And keep in mind, I still expected Barcelona to qualify. I fully expected them to score at least once.
 
So my thought process wasn't whether Liverpool could pull off the shock but can they at least give it a good go and look like they "might". And can I get enough price movement to at least remove all risk from the trade?
 
This is the big difference between trading and betting.
 
If you know football, you know that Liverpool at Anfield in Europe is very rarely an easy game for anybody.
 
I remember the match against Olympiakos in 2004 when they needed 3 goals in a short space of time to qualify, the same match with that Gerrard goal and Andy Gray shouting "You beauty".



 
And then the same season in 2005 with the Istanbul come back against AC Milan, probably one of the first famous 1.01s to ever be turned over on Betfair.
 
Then in recent years the amazing comeback from this similar team that Liverpool produced against Dortmund in 2016.
 
Liverpool have good history for doing this sort of thing and Klopp is a man who can fire them up. Klopp also inspired Dortmund to similar amazing comebacks in his time there.

"How is 2004 and 2005 relevant to today?" I hear some argue! Doesn't matter, it is in the DNA of the club and the manager to never give up.
 
Based on much of the above I figured Liverpool were a good shout to at least win the regular 90 minute match.
 
But £60 at 2.60 is only going to return £90 odd where as risking £60 in the "To Qualify" market had profit potential of £1000 to play with. And Liverpool had to win in order to qualify.
 
So anyway, the lay went in at 1.06 and my first aim in these situations is to try and see if I can remove the risk to give myself a free shot at the profit.

Remember, we are trading bets. I bought the bet as I thought I could sell it later at a better price. Same way people invest in properties or art.
 
The early goal for Liverpool seemed to be perfect for the trade but the lay price on Barcelona rose to only 1.12.
 
I expected maybe 1.20 and so I didn't see any value in taking any action at that point.
 
So I left it for a bit and like many expected Barcelona to respond and score the killer goal but it never happened.
 
Interestingly, at half-time Barcelona were back into 1.06 to qualify and I did have a think about going in again. After all, Liverpool only needed 2 goals now.
 
But I left it and just wanted to see how it played out.

The second half began and this is where I got a tiny bit lucky.
 
Liverpool made it 2-0 and the price on Barcelona rose to something like 1.40 (not totally sure to be honest).
 
My cash out amount was around 100 quid or so.
 
And again it wasn't a price I liked the look of. Liverpool were pretty rampant at this point so I just said I would see what happens in the next 5 minutes then decide what to do. At this point I am still thinking that the actual comeback is beyond them but now this is the "scare" I was looking for.
 
Luckily, Liverpool made it 3-0 pretty quickly and the Barcelona price went to 1.60.
 
I still thought it should have been evens at that point but enough was enough and it was time to remove the risk from the trade.
 
Backing £100 at 1.60 was enough to remove the risk and left me with £900 of green on Liverpool to play with.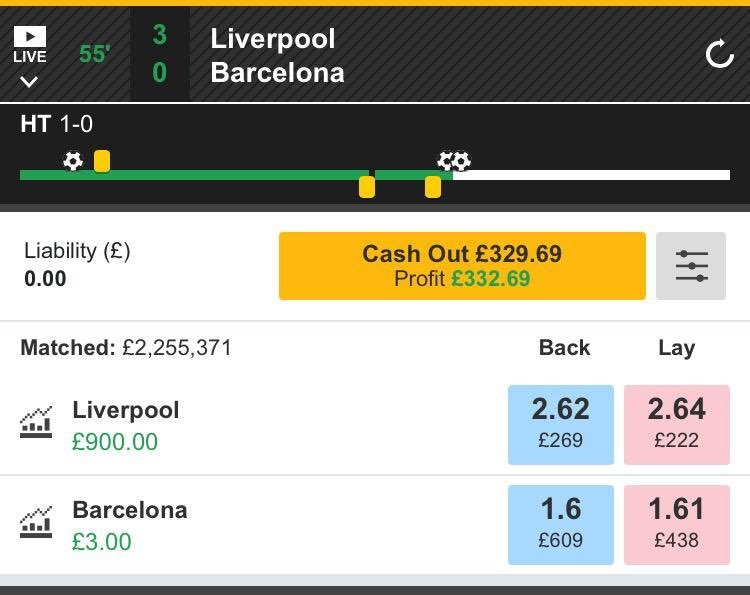 I shared the screen on Twitter and had loads of people screaming I should cash out.
 
The cash out amount by this point was a decent return on the original stake at 332GBP but still I didn't see any value in cashing out.
 
Barcelona were struggling to keep the ball and I deemed Liverpool to be the favourites with all the momentum they had. Remember the tie was level at 3-3 and Liverpool were the better team and looking more likely to score next, if anything I think Liverpool should have been the 1.60 shots at this point.
 
As it stood the match was going to extra time so I was prepared to let it go till then. If Barcelona score then I miss my profit that is true but you have to race these things as far as you can. If you consistently exit when all the value is in your favour you will have a hard time being profitable in the long term.
 
Many newbies go wrong by just seeing green and taking it as quick as they can.
 
I have had similar trades where I left a big profit on who I deemed to be value and it never came in. I don't kick myself about it since I know I made the right decision even if it doesn't produce a profit.
 
Yes, you read that right.

Just because a trade loses doesn't mean it is the wrong decision. Something else many beginners fail to grasp.
 
But then the Liverpool goal arrived to make it 4-0 and Liverpool's price went into 1.40 to lay.
 
At this point I decided to take some profit out of the trade.



 
So I had a lay of Liverpool for £200 leaving me with £200 if Barcelona turned it around and + £800 if Liverpool got through.
 
I am only human of course and wanted something for my efforts but the Messi factor is one that is hard to ignore, the match could be swung by one moment of Messi magic and with Messi on the pitch I don't want to take my chances.
 
I think with no Messi I just let it run on Liverpool since they were so dominant.
 
I kept a close eye on the final 10 minutes and was prepared to lay Liverpool again if Barcelona stepped it up but they never did.
 
In the end no further action was needed.



 
And that is the great thing about football trading. Once you get into a strong position you can decide on how to hedge it, you could go for the equal profits or leave more profits on who you think is value.
 
At the end of the day, once you remove any risk from a trade the "hard work" is done.
 
But there was definitely a slice of luck in the timing of the goals that helped make the profit a bit bigger but perhaps the key take away is the fact that I wasn't considering cashing out early when probably most would have done that.
 
Get in the trade when there is value to be had and get out when the value has gone.
 
As it stood the markets seemed to be heavily favouring Barcelona almost as if nobody could believe the comeback was going to happen despite it actually happening before our very eyes.
 
Crazy match, I actually wish I was a Liverpool fan as that must have been an amazing feeling last week.

Then of course a similar scenario happened in the Spurs-Ajax semi final. Some who know me well asked if I was on it, and of course I was 😉

I took a screenshot as I entered the trade and was going to tweet it but realised I didn't want the hassle.

This was as far as I got I am sure you can use your imagination to know what happened next!




My reasoning for that one was just that I fancied Spurs to score a goal as Ajax looked vulnerable to me every time they went forward. If they could score early in the second half then "anything" could happen. Similar to the Liverpool match I really didn't expect it turnaround like that though!
 
Anyway, I hope there was a fair bit to learn from this email. I know many enjoy these so I will keep doing them when possible and when there is a notable trade to talk about.
 
If you are interested in learning a bit more about how to approach football trading in general then definitely jump on one of my FREE football trading webinars that I am holding right now.
 
These were really popular before so it is back by popular demand and can really give you something to think about regarding your football trading approach. Some of you did this last week and absolutely loved it. Be sure to bring a cup of tea/coffee/beer with you!
 
Definitely take a look at the page and see if there is a slot you could check out. The presentation is 90 minutes so the time it takes to watch one football match!
 
LEARN MORE
 
And yes you view this online from the comfort of your own device.
 
Hope to see you there, if not have a good week and keep it green!
 
Ben
Sports Trading Life
 
 
P.S Here is the clean link to the webinar registration page >

https://ultimatefootballtrading.com/webinarinvite


 
To make sure you keep getting these emails, please add ben@sportstradinglife.com to your address book or whitelist us. Want out of the loop? Unsubscribe.

Our postal address: Linen Hall, 162-168 Regent Street, w1b 5td, London, England