Health & Biology
October 22, 2019
Medicine
A sticking point for rapid flu tests?
Rapid molecular tests for influenza are as quick as older on-the-spot tests and much more accurate. But that might not be enough to drive widespread adoption.
Current Issue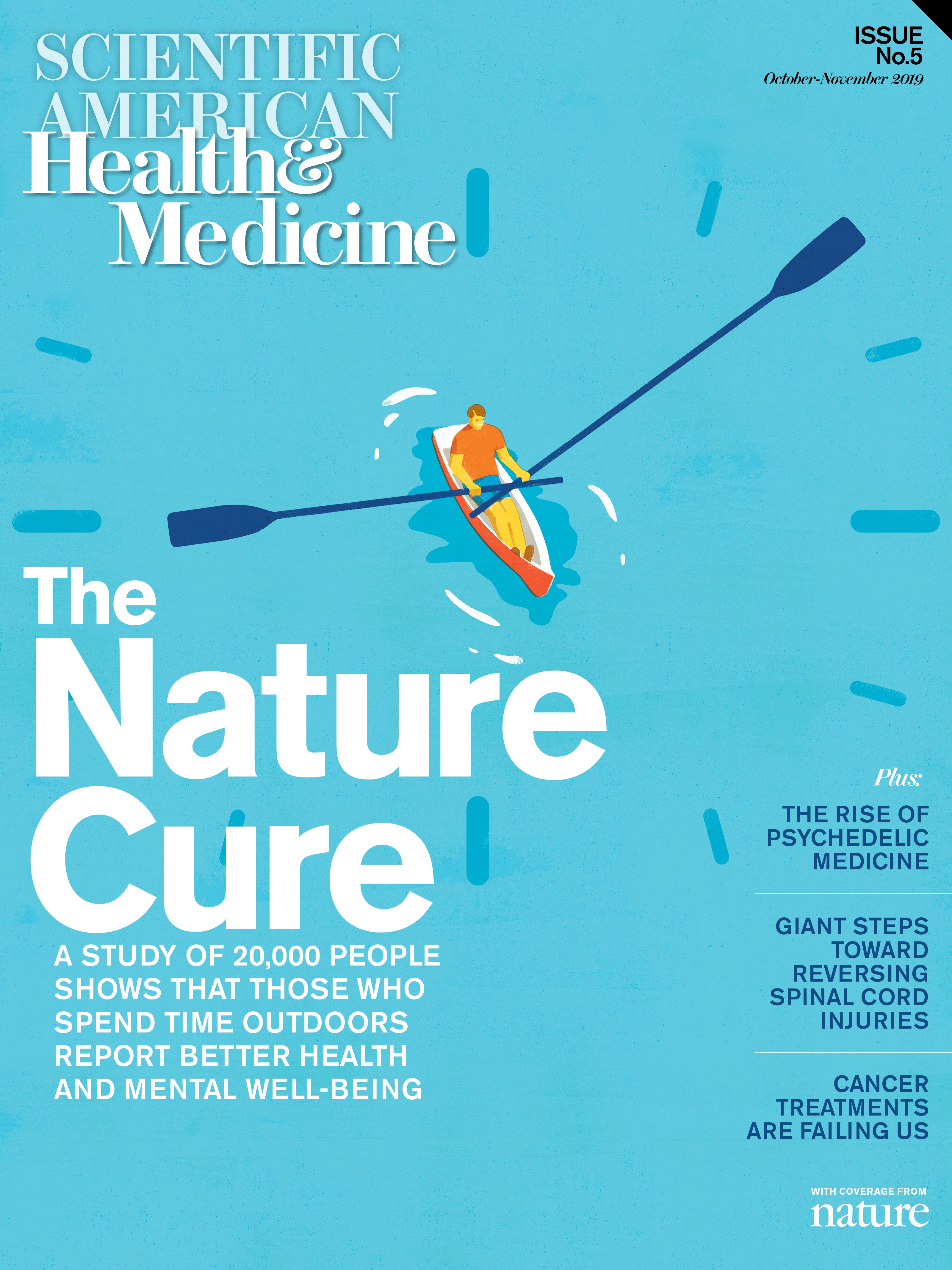 To view this email as a web page, go here.
You received this email because you opted-in to receive email from Scientific American. To ensure delivery please add news@email.scientificamerican.com to your address book.
Unsubscribe Manage Email Preferences FAQs Terms & Conditions Privacy Policy Contact Us
| | | | | | | | | | | | | | | | | | | | |
| --- | --- | --- | --- | --- | --- | --- | --- | --- | --- | --- | --- | --- | --- | --- | --- | --- | --- | --- | --- |
| //li.scientificamerican.com/imp?s=124897400&sz=2×1&li={LIST_ID}&e=publish@refactual.com&p=MTc0MzA4OTQ4OAS2" width="2″ height="6″ border="0″ style="border: 0;"> | //li.scientificamerican.com/imp?s=124897401&sz=2×1&li={LIST_ID}&e=publish@refactual.com&p=MTc0MzA4OTQ4OAS2" width="2″ height="6″ border="0″ style="border: 0;"> | //li.scientificamerican.com/imp?s=124897402&sz=2×1&li={LIST_ID}&e=publish@refactual.com&p=MTc0MzA4OTQ4OAS2" width="2″ height="6″ border="0″ style="border: 0;"> | //li.scientificamerican.com/imp?s=124897403&sz=2×1&li={LIST_ID}&e=publish@refactual.com&p=MTc0MzA4OTQ4OAS2" width="2″ height="6″ border="0″ style="border: 0;"> | //li.scientificamerican.com/imp?s=124897404&sz=2×1&li={LIST_ID}&e=publish@refactual.com&p=MTc0MzA4OTQ4OAS2" width="2″ height="6″ border="0″ style="border: 0;"> | //li.scientificamerican.com/imp?s=124897405&sz=2×1&li={LIST_ID}&e=publish@refactual.com&p=MTc0MzA4OTQ4OAS2" width="2″ height="6″ border="0″ style="border: 0;"> | //li.scientificamerican.com/imp?s=124897406&sz=2×1&li={LIST_ID}&e=publish@refactual.com&p=MTc0MzA4OTQ4OAS2" width="2″ height="6″ border="0″ style="border: 0;"> | //li.scientificamerican.com/imp?s=124897407&sz=2×1&li={LIST_ID}&e=publish@refactual.com&p=MTc0MzA4OTQ4OAS2" width="2″ height="6″ border="0″ style="border: 0;"> | //li.scientificamerican.com/imp?s=124897408&sz=2×1&li={LIST_ID}&e=publish@refactual.com&p=MTc0MzA4OTQ4OAS2" width="2″ height="6″ border="0″ style="border: 0;"> | //li.scientificamerican.com/imp?s=124897409&sz=2×1&li={LIST_ID}&e=publish@refactual.com&p=MTc0MzA4OTQ4OAS2" width="2″ height="6″ border="0″ style="border: 0;"> | //li.scientificamerican.com/imp?s=124897410&sz=2×1&li={LIST_ID}&e=publish@refactual.com&p=MTc0MzA4OTQ4OAS2" width="2″ height="6″ border="0″ style="border: 0;"> | //li.scientificamerican.com/imp?s=124897411&sz=2×1&li={LIST_ID}&e=publish@refactual.com&p=MTc0MzA4OTQ4OAS2" width="2″ height="6″ border="0″ style="border: 0;"> | //li.scientificamerican.com/imp?s=124897412&sz=2×1&li={LIST_ID}&e=publish@refactual.com&p=MTc0MzA4OTQ4OAS2" width="2″ height="6″ border="0″ style="border: 0;"> | //li.scientificamerican.com/imp?s=124897413&sz=2×1&li={LIST_ID}&e=publish@refactual.com&p=MTc0MzA4OTQ4OAS2" width="2″ height="6″ border="0″ style="border: 0;"> | //li.scientificamerican.com/imp?s=124897414&sz=2×1&li={LIST_ID}&e=publish@refactual.com&p=MTc0MzA4OTQ4OAS2" width="2″ height="6″ border="0″ style="border: 0;"> | //li.scientificamerican.com/imp?s=124897415&sz=2×1&li={LIST_ID}&e=publish@refactual.com&p=MTc0MzA4OTQ4OAS2" width="2″ height="6″ border="0″ style="border: 0;"> | //li.scientificamerican.com/imp?s=124897416&sz=2×1&li={LIST_ID}&e=publish@refactual.com&p=MTc0MzA4OTQ4OAS2" width="2″ height="6″ border="0″ style="border: 0;"> | //li.scientificamerican.com/imp?s=124897417&sz=2×1&li={LIST_ID}&e=publish@refactual.com&p=MTc0MzA4OTQ4OAS2" width="2″ height="6″ border="0″ style="border: 0;"> | //li.scientificamerican.com/imp?s=124897418&sz=2×1&li={LIST_ID}&e=publish@refactual.com&p=MTc0MzA4OTQ4OAS2" width="2″ height="6″ border="0″ style="border: 0;"> | //li.scientificamerican.com/imp?s=124897419&sz=2×1&li={LIST_ID}&e=publish@refactual.com&p=MTc0MzA4OTQ4OAS2" width="2″ height="6″ border="0″ style="border: 0;"> |